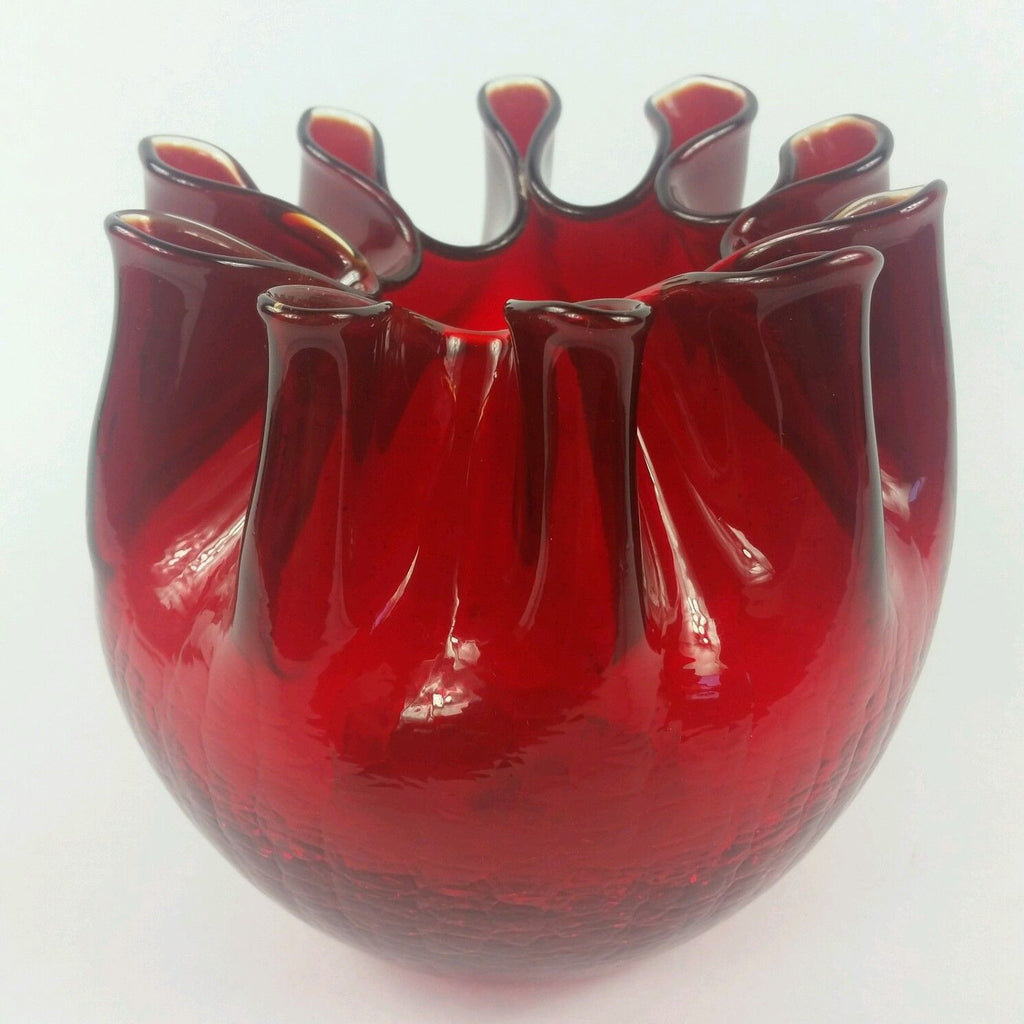 Everything is coming up roses for those who collect rose bowls. What is a rose bowl?  It is defined as a glass bowl that turns in at the top, and does not turn out again. Typically, Victorian style,  these bowls have crimped rims, smooth rims, or scalloped rims and come in every color and style imaginable.
Rose bowls were popular from the 1880's into the 1920's and are still being made. They were popular for holding old fashion cabbage roses, which have always been my favorite, and my rose of choice to plant still today.  Cabbage roses were the beautiful roses you see romantic pictures of that have full and very fragrant blooms each having 100-200 petals per flower. Unfortunately, these beautiful roses have very delicate stems which is why they are probably not as commonly seen today as the average bud vase is not capable of supporting a bouquet of these beauties therefore, the need for rose bowls. 
Short and shallow rose bowls with their small openings are perfect for holding several full cabbage rose blooms that would otherwise topple over in a conventional bud vase. Rose bowls range from simple to extravagant and can be found in various styles. They are typically made with very colorful art glass to compliment any floral arrangement. Almost every glass maker produced rose bowls making them quite collectible over the years for many glass enthusiasts. 
If you find yourself wanting to try your garden roses in a rose bowl, spring is here and the perfect time to plant roses. If you love roses as much as I do, I would urge you to plant a few of these old fashion beauties in the garden. Depending on your climate many of them make great short climbers on a pergola or short arbor.
English roses or old cabbage roses do not have long sturdy stems and the blooms hang when in full bloom. Their petals don't last long, but I find that only adds to their beauty when you walk outside to find a patio full of rose petals. Their smell is like no other, and even though they don't last long I still find them worth planting.
My personal favorites are Abraham Darby, a light pink with an extravagant smell, and Pat Austin a beautiful coppery apricot both of which I grow in pots on the patio with obelisks. If you decide to try a few don't forget to buy a few rose bowls to bring a little beauty inside. You definitely can't find these roses to buy in bouquets, you just have to grow them yourself. 
1 Response
Leave a comment