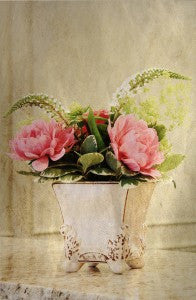 Make your home a love nest.  Every one deserves to be nurtured. Why not do a few things every day to make life more special for the ones you love?  It starts with you. Here are a few tips.
Wake up Grateful –  When I wake up I make a conscious effort to think about all the things I am thankful        for…sunshine, all the little paws at my feet as I make my way to the coffee pot, and for the love of my life, my soul mate.  It is proven that being grateful alone brings peace to your life and happiness and it doesn't cost a thing.
Fresh Flowers  –  Buy an antique vase or pitcher that you enjoy and fill it with fresh flowers each week. If you are a flower lover like I am there shouldn't be any need to wait to buy flowers for company.
Candlelight     –     Why wait for an anniversary or a power outage to light a few candles? Whether you choose to eat by candlelight or just to light a few candles for ambiance it automatically makes your evening more special.
Have A Little Fun  –  Each year add something to your home you can look at that brings you enjoyment each day like a piece of wall art or a tabletop collectible.
Add Color   –   Accent with colorful pillows, rugs, or art to add seasonal change without going to the expense of re-decorating your home.
Good Food   –   For many, we show our love through food.  Nothing makes someone happier than coming home to the smell of something scrumptious cooking on the stove. It gives you the sense that someone cares about you.  Part of feeling nurtured are the memories that are evoked by smells, tastes, and sounds. That's why we all remember as children the smell of grandma's homemade cookies. Don't you want to evoke those memories for your family?
Eliminate white noise – Surround yourself in quiet.  Give your senses a break.   The constant input makes for sensory overload.  Even just 5 minutes of quiet time each day can give you peace. Don't get me wrong, some of these tips are easier than others, I too, find myself too busy to stop and smell the roses. A constant reminder for all of us is a good thing.  What tips are you willing to a give a try?                  
Leave a comment
---
Also in Blog