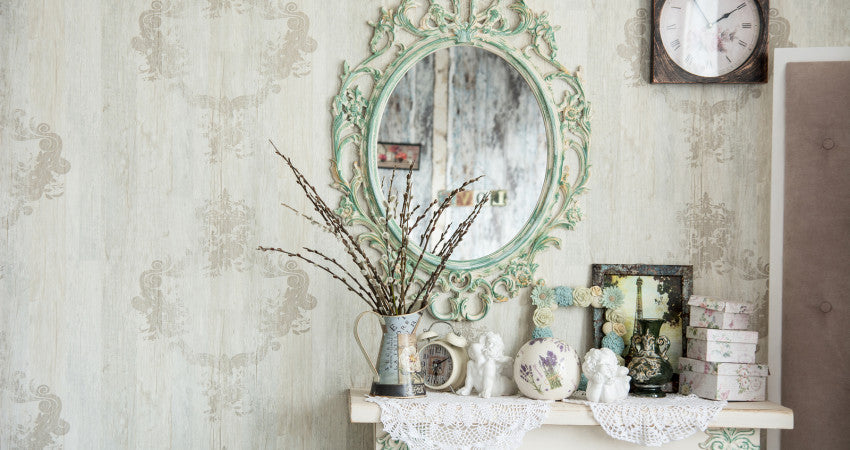 When I arrive home and close the metal gates behind me I can leave behind the entire world. What's wrong with just enjoying the simpler things in life that bring you comfort?
It is easy to turn your own home into a romantic place you can't wait to be.  Start by displaying the things you love. Display your favorite collectibles, glass, or antiques in table top bowls or in a display cabinet.  Your favorite antique glass or porcelain collectibles can be arranged on mantle or shelves so they are up and out of the way, but still visible.
Use the things you love.  That antique Fenton glass pitcher you found at an estate sale that you couldn't live without. Use it! Place fresh flowers, plants, or a silk arrangement as a display so it can bring you pleasure every day. Serve dinner on the antique plates you purchased. Relax on a Sunday morning and drink coffee out of that antique teacup and saucer set. The goal is to enjoy living with all the beautiful collectibles you have found over the years. Don't just hide them away.
Use textures like various pieces of your favorite art glass, with the industrial look of metal, as well as weathered and shiny collectibles to play off each other and add interest. If you have a collection that can be framed, frame the different pieces and create a gallery in an office or den that you can enjoy everyday. Perhaps your favorite collectibles are your family members, or pics of your favorite pooch.  Use black and white photos and collect several photos of various sizes to make a wall art collage.
Remember the hunt for your favorite treasures is only half the fun. You need to see your favorite things everyday to truly enjoy them.
Leave a comment
---
Also in Blog