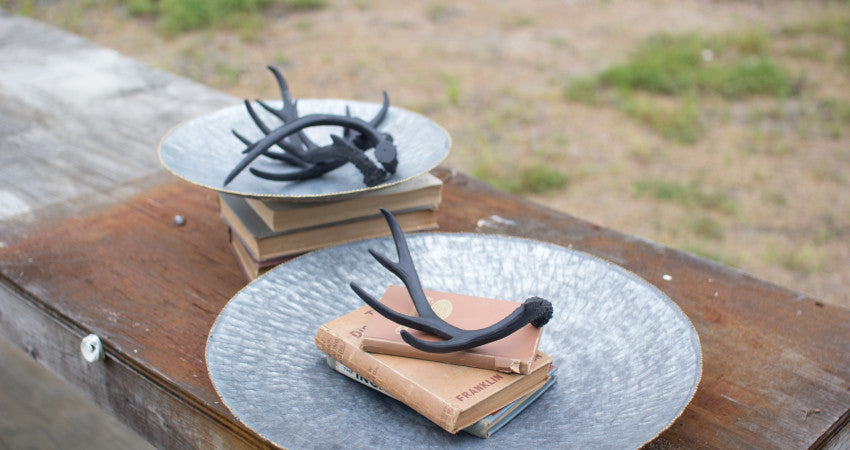 I just love the lodge, ranch style look these days!   It is a combination of rustic, yet southwest, but classy. Especially for a cabin retreat or a home in the southwest this look is clean, fresh and unique. You could say it's shabby chic's older sister!  A little more colorful, but less distressed.  Let's face it, us women have to compromise, and I don't see many men going for the shabby chic look.  This style of home decor is a mix of masculine decor yet softened to easily be a comfortable compromise for two.
Texture is key to this look. Antlers are extremely popular now in lighting fixtures, with candles, or even as a tabletop display.  Decorative skull wall mounts can be added for a little western flare and are very popular in resin, sprayed with silver, or even adorned with turquoise. Zinc chargers or trays can be used on end tables or shelves to mix up the design even more. Hides can be used as throws over leather couches or as rugs add another element of texture.  You can romanticize the look with antiqued glass bottles and vases to soften the overall decor.  A favorite of mine is adding elements like pillows done in soft Navajo where the harsh colors of your typical southwest decor are muted with dusty pinks, shades of terracota, and taupe.
Hanging southwest or native american rugs is also a trend to add a splash of color within the design when you are going for more color.  Hanging a Southwest style chandelier or using Native American Kachina dolls as a focal point to a living room or foyer will not only add color, but interest. This style is versatile, but definitely different enough to make you feel like you are on your own personal "getaway" whether at home or at your personal cabin in the mountains.
What do you think?  Would you go Ranch Style?
Leave a comment
---
Also in Blog