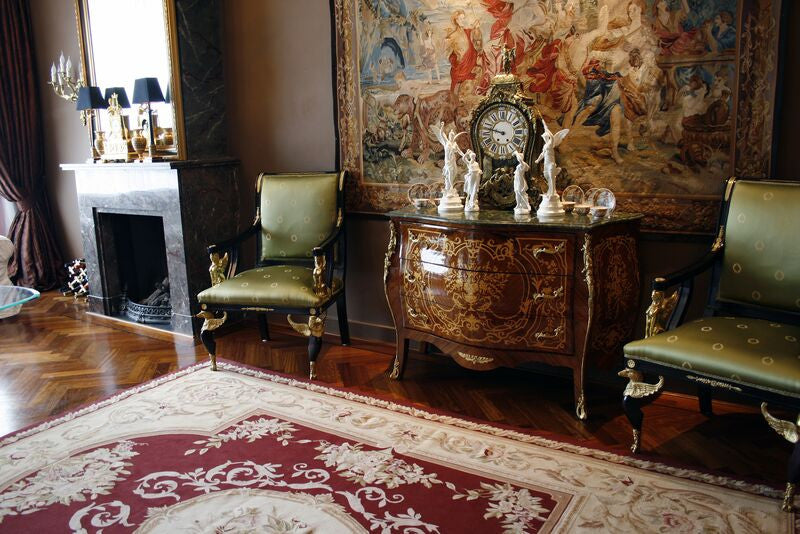 Protecting your antiques from the elements is not always as simple as you might think. Didn't know you had to protect your keepsakes from the elements inside your own home?  Well, think again. Sometimes the elements we take for granted are doing the most damage to our one of a kind pieces. The best tip for caring for your antiques and collectibles is to control the atmosphere inside your own home.  
Everyone loves to display their pieces, but choose the perfect spot with preservation of the piece in mind.  Select a location without any direct sunlight or ultraviolet rays that can damage antique furniture, paintings, and woven rugs. Fading is non-reversible and many times the damage is done before we recognize it has happened.  Humidity can also be a curse.  Humidity between 40-60% is an acceptable range for keeping antiques. 
Keep glass away from hot light bulbs, cold windows, and heavy traffic areas where there are draperies, swishing dog tails, or frequent paths of movement that can increase the incidence of breakage. Glass in general, especially antique glass, is very susceptible to cracking with sudden changes in temperature.  Therefore, anywhere there are frequent changes in temperature whether close to a fireplace, or on a windowsill, damage can occur.
When packing and shipping your items it is important to let your pieces come to room temperature inside the box they were shipped in prior to opening if there is more than a 20 degree difference between the inside and outside environment.  There is nothing worse than taking the time and patience to correctly pack glass to find that your pieces did not break in transport, but by simply unpacking them too soon.
The same holds true when washing pieces of glass. Do not use hot or cold water, but lukewarm water to avoid cracking. Keep a towel in the bottom of the sink when you are washing a piece in case your hands get slippery. Never hold a pitcher or art glass piece by the actual handle.  Many of these pieces have applied handles where the handle was blown and molded separately and then applied to the body of the pitcher. Lifting a glass piece by the handle adds undue pressure where the handle was applied. Stubborn stains inside glass pieces can sometimes be lifted by using a strong dental cleaner such as Polident to remove stains.  Keep in mind that if the stains are not removable more than likely you are dealing with "sick glass" that only be cured by a professional.
The dreaded job of dusting can be important. Dust in general is not necessarily harmful, but layers of dust over the years can combine with smoke, moisture, and oil from our hands and clog the pores of an antique and deteriorate the finish. Dusting with a dry cloth can scratch the finish on furniture.  It is best to dust with a soft cotton cloth misted with distilled water and dust rubbing in the same direction as the grain. There is no need to use furniture polish as the dampness of the cloth will lift the dust residue.  Waxing your furniture can also be beneficial once a year to protect the finish against heat, moisture, and use.
Store metal antiques in dry places and wrap silver in silver cloth. Never put silver in plastic bags or plastic wrap as they can contain Chlorine which will permanently discolor the silver.
Last, but not least, don't in hastily attempting to preserve a piece alter the finish of an antique. Permanently changing the finish even with good intentions can drastically decrease its value. On many occasions it is far better to leave an imperfection rather than attempt to fix it by re-staining or altering the finish. Seek the advice of an antiques conservator for further guidance in the event of a natural disaster or advice on unique pieces.
2 Responses
Leave a comment