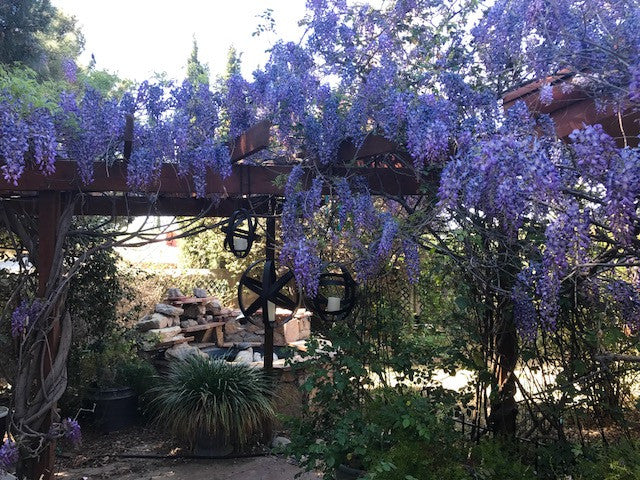 As we celebrate the beginning of summer with Memorial Day Weekend everyone is in the midst of entertaining for family BBQ's and summer parties. When planning a location for entertaining a little forethought can go a long way. It can make the difference between a typical get together or an over the top party with these few simple tips that will be make it easy to impress even the most discriminating of guests.
First, divide your patio into vignettes by having one place for people to sit, relax and talk, while having an adjoining area to cook and serve drinks. It can be as simple as dividing up space with outdoor furniture like a sofa or even a cluster of container plants.
Secondly, when ordering your furniture, order online. It saves you from the hassle of having to load it and struggle with getting it home only to unload it and drag it to the backyard. Online sales are great going into the season and the choices are endless and right at your fingertips.
Add pops of color with accessories like pillows and rugs. If you maintain a neutral theme with your larger pieces you will never grow tired of them and you can always change out your look easily with new patterns and colors of pillows and rugs saving you money in the long run.
Add architectural interest to the area making it unique to you and giving it a cozy feel. Large elements might include a pergola or arbor, but easier ideas could include adding charming little details like hanging chimes or metal orbs. Outdoor lighting with hanging candelabras, rustic chandeliers or lanterns also add interest and texture. 
Add a focal point with an element of fun. What does the family like to do? What about having s'mores right at home on a Tuesday night. There are great buys on propane fire pits online or even do it yourself ideas with paver stones. If you are looking for tranquility add a water fountain to add the soothing sound of trickling water, or even a small container pond. Having a great patio will allow you to have a get away space when you don't have the time to leave the house.
Lastly I am always a believer in adding plants. Add height with taller container plants or evergreen bushes and use smaller pots with flowers to pop in color and dimension. Wisteria is a great choice to grow on a structure or even Jasmine as an evergreen on an arbor or trellis. Grasses are also beautiful to add in pots for height and movement. These tips will make entertaining easy this season while giving you a place to relax and indulge in every day.
21 Responses