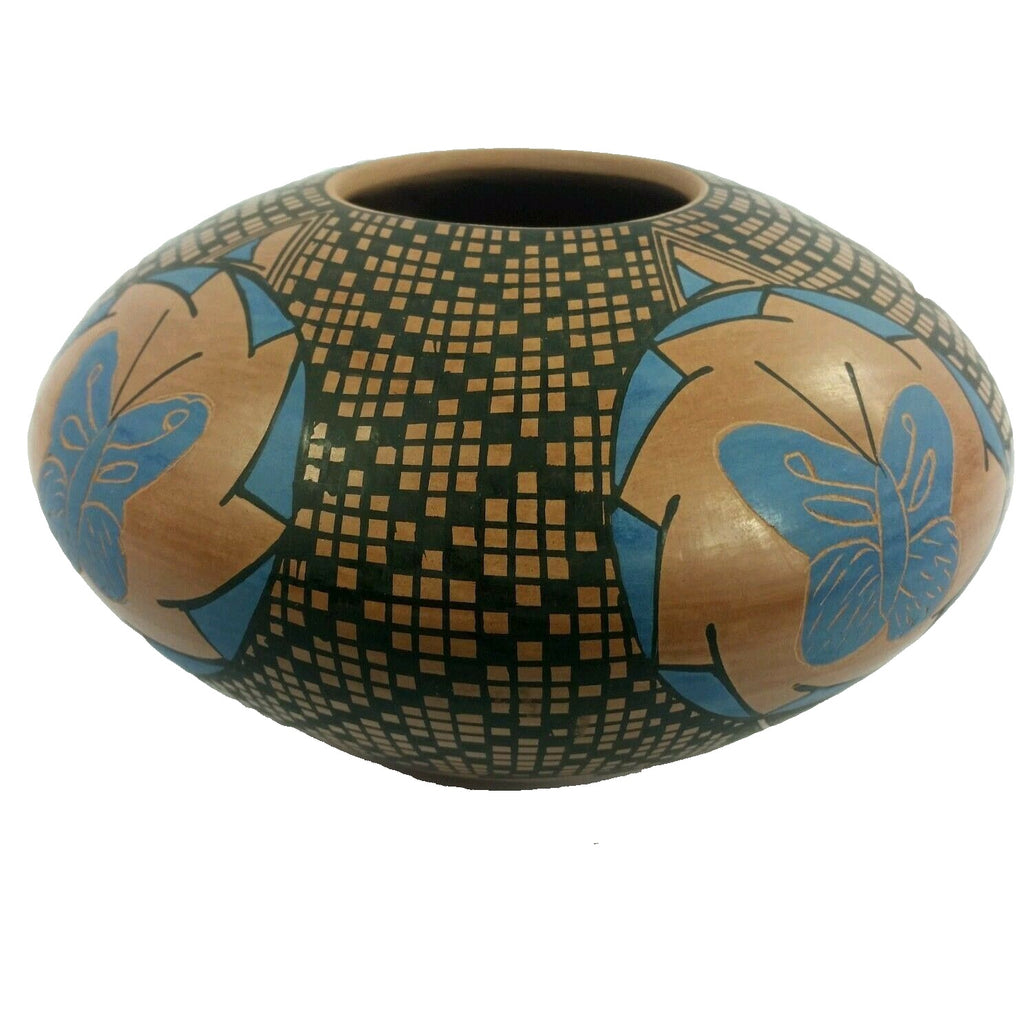 Our Mata Ortiz Collection can be found at the following link: https://www.cityfarmhouseantiques.
com/collections/southwest-art-decor
Video Translation: Hi this is Jennifer with City Farmhouse Antiques and I am here with this week's find of the week. A beautiful piece of Mata Ortiz pottery. I thought this would be a great opportunity to give a quick tutorial on how to ship your breakables like your art glass, art pottery, and antique glass. We have company here this morning so it may get a little noisy (Coco Bean is barking).  My co-workers are always working with me. Keep in mind these are my tips that have helped me over the years. First, the number one thing I want to say is never pack and ship antiques or art glass when you are in a hurry or when you have children running around under your feet. Especially when you are in a hurry. You are going to break something. You have to be in the right frame of mind to do this and to package and ship these pieces or you are just going to be in a hurry and drop and break it or wrap it too tight. This I guess is where my background working in the NICU comes in handy. I have been used to holding all these tiny, under a pound, preemie babies. I guess art glass isn't much different. You just have to be careful and focus on what you are doing. Just last week coming back from being down South I took my mom antiquing with me and brought back those beautiful brides baskets I showed you all last week. Mom happened to find a Lladro that she fell in love with that I bought for her because I hadn't seen one like it with a calf. My mother raises cattle out in the country and it was an adorable piece with a little girl and her calf. Anyway, to make a long story short, we had just called an Uber driver to pick us up when we found the piece and I told mom I would go out and wait for the driver. I told the man we were purchasing the Lladro from not to hurry or rush and that we would wait. I explained that I pack glass all the time and know that the process can't be rushed. Needless to say, about ten minutes later my mother came and met me in the parking lot and said he had dropped the Lladro and it was broken in multiple pieces from being in a hurry. I felt so bad. Case in point, just don't do it. I thought we could fix the Lladro and still make it work, but it was broken at the head all around the curve of the neck, and the ear. I found her another one online from eBay. Which is another story.  When it arrived it got there wrapped extremely poorly. It didn't have a quarter of the wrapping I am going to talk about and the seller didn't even use packing peanuts which makes me cringe. It's a wonder the Lladro was not broken during shipping. I feel like my customers deserve to receive their piece undamaged.  After all, it's not like these pieces can just be reproduced, many are one of a kind items. Thus we must take the time to ship them the right way which is also costly.  First I want to show you that because of the delicate paint on this piece of Mata Ortiz pottery it is easy to mar this. It is easy to rub off some of the paint so I don't ever want the piece even rubbing against the plastic bubble wrap so I will wrap a piece like this in doubled over tissue paper and tape it and then I will use two layers of bubble wrap. When I am bubble wrapping something I will use small bubble wrap first because it will fill up those small areas and then I line it with the larger bubble wrap on the outside. The object is to not be able to feel your piece when you get done wrapping it. You don't want to feel any curves or ends in the glass. If you can feel the glass in a corner then add more bubble wrap. Then tape it. I like the clear packing tape because it sticks and pulls when I pull the bubble wrap together. Some people prefer a painter's tape because you can easily pull it off without yanking on it when opening the package.  When you open a piece of glass you don't want to yank and pull you want to cut away the tape because if it's extremely delicate you can break it just by unwrapping it. Once you get your two sizes of bubble wrap wrapped around the piece of glass it's important to shrink wrap the item. I use this shrink wrap. Keep in mind what kind of piece you are wrapping. You want it to be tight and snug, but it you have a very, very delicate piece with a fine hand blown stem, for example, don't wrap it too tight. Wrapping a piece too tight with the shrink wrap will snap a delicate piece or handle right in half. The other key is finding the right size of box.  I never scrimp on the size of box and you want to always use packing peanuts. After you get your piece bubble wrapped and shrink wrapped you put it in a box quite a bit larger than the piece so you have 2 inches all the way around on all sides to fill in with packing peanuts. Jostle the peanuts to get them firmly on the bottom and around the sides. This piece of Mata Ortiz pottery is light when you get it in here and you can see how small this piece is in comparison to the size of the box. There are probably 3 inches around all sides. If you have a very heavy piece like a piece of Murano art glass, or piece of Lalique crystal keep in mind those heavy pieces of art glass are going to sink to the bottom of the box and be unprotected. If they go to the bottom they run the risk of not having enough peanuts around them so I will often place a piece of cardboard on top of a layer of peanuts on the bottom or I will put the heavy piece of art glass or antique porcelain in a smaller box inside the larger box leaving 2-3 inches of peanuts around all sides between boxes to keep it from shifting in transit. I also like to ship using USPS whenever possible because I feel like it is safer for those smaller pieces because there is only a max of 70 lbs that can fall down on top of a box off the conveyor belt. When you pack your piece you have to be prepared for up to 70 lbs to fall on your box and when you're going Fedex or UPS it can be more than that. I always mark everything fragile although I don't know if it makes a difference, but at least my customers know that I tried to take all the appropriate precautions to have their piece delivered undamaged. Sometimes I will even reinforce my boxes with cardboard inserts because these priority mail boxes from USPS (that are free) are not very thick. These are my tips. I hope you have found them helpful.  Keep in mind it doesn't matter how good you are at this, the key is not being in a hurry or preoccupied. I have spent 2 hours wrapping something and then gotten the shrink wrap too tight and broken the handle so I hope these tricks of the trade help you. . Be sure and check us out on our website at www.cityfarmhouseantiques.com where we have more than just antiques and give us a like on Facebook.
Leave a comment
---
Also in Blog