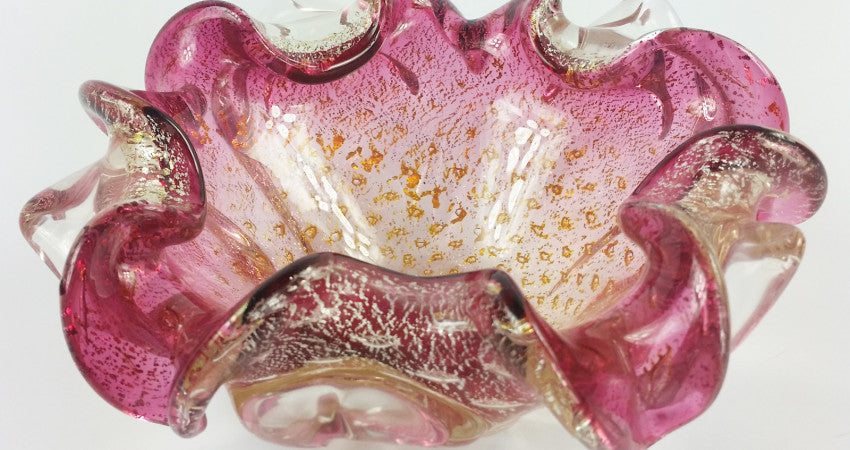 Yes, I'm an addict. In my not so many years of collecting I was lured by the charm of art glass right from the start. It was love at first sight.  The deep colors, shapes, and so many alluring techniques started me collecting.  Murano Art Glass has to be one of my favorites.  Art glass is like eye candy that you can enjoy all year, like flowers in bloom without a nearing frost. No wonder makers like Louis Comfort Tiffany considered his life long mission "the pursuit of beauty".  I would say he succeeded. Other glass makers like Stevens and Williams, Loetz, and Daum to name a few, have spurred many people to collect glass.
The very first examples of art glass can be seen in the stained glass windows of churches.  With it's colorful and decorative eye appeal art glass has transformed itself into paper weights, and even jewelry beads.   Typically, the more eye appeal a piece has, the higher the price it commands. The colors come from adding metallic salts to the glass like Cabmium for deep yellow, and Iron oxide for Green, or Manganese for amethyst to make deep beautiful colors.
When looking at a piece of art glass you can examine it for what is known as a pontil, or a scar on the bottom of the piece where it was broken off the pontil rod from being blown.  All hand blown glass will have a pontil. More valuable pieces of art glass will have a pontil that has been polished.  When looking at art glass look for a signature. Signatures may be etched very finely in the base of the piece.
Present day glass makers like Dale Chihuly famous for making glass sculptures in botanical gardens, and whose work can be seen at the Belagio hotel in Las Vegas are proof that the art of glass making continues to be an extraordinary form of art still today.  I would pay money to swim in the pool he designed layered in a coral reef of art glass. The pictures are amazing.
Perhaps reading this you have a deeper appreciation for art glass or may even be one of those considering collecting. I give you fair warning.  I never saw the addiction coming!
Leave a comment
---
Also in Blog