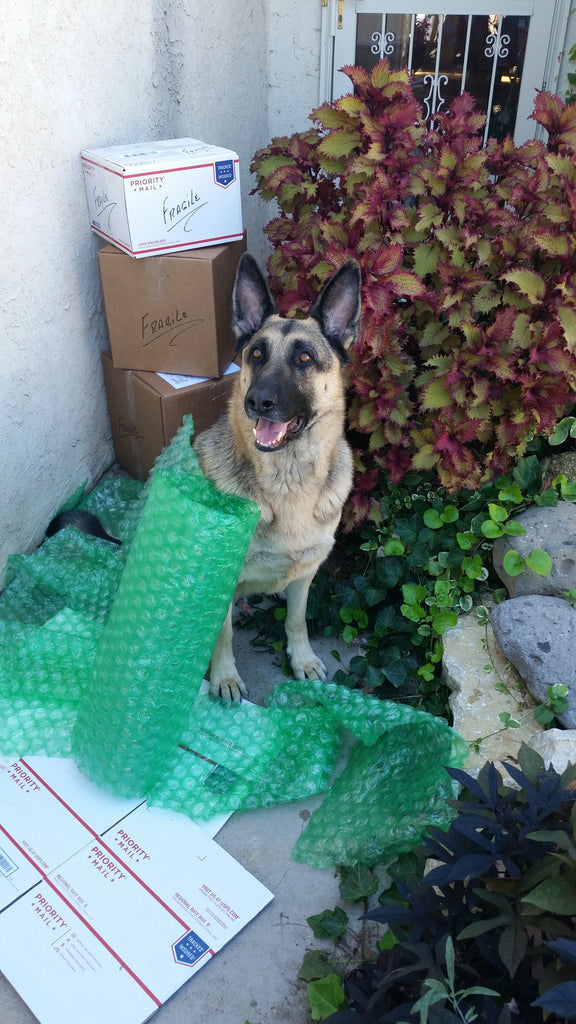 I would like to introduce to you our shipping director here at City Farmhouse Antiques.  Zeppelin ensures that all packing materials are of the finest quality to ensure your new keepsake makes it to your home.  All antiques, collectibles, and art glass are layered with two sizes of bubble wrap and then shrink wrapped to ensure breakables arrive safely. Each piece is then surrounded in several inches of packing peanuts.
He gives his paw of approval before anything leaves the loading dock.  Knowing two languages and having worked in Schutzhund  he takes guarding the perimeter seriously when he is not overseeing the shipping department.
Zep includes a note inside each box with instructions when opening your package. It's important to leave your box inside the house for a few hours prior to opening. Differences in temperature can crack antique glass that has otherwise shipped safely.
We love feedback from customers and are happy to post pics of your favorite antiques and home decor collections on our Facebook page….of course pics of pups are welcome too!
3 Responses
Leave a comment
---
Also in Blog