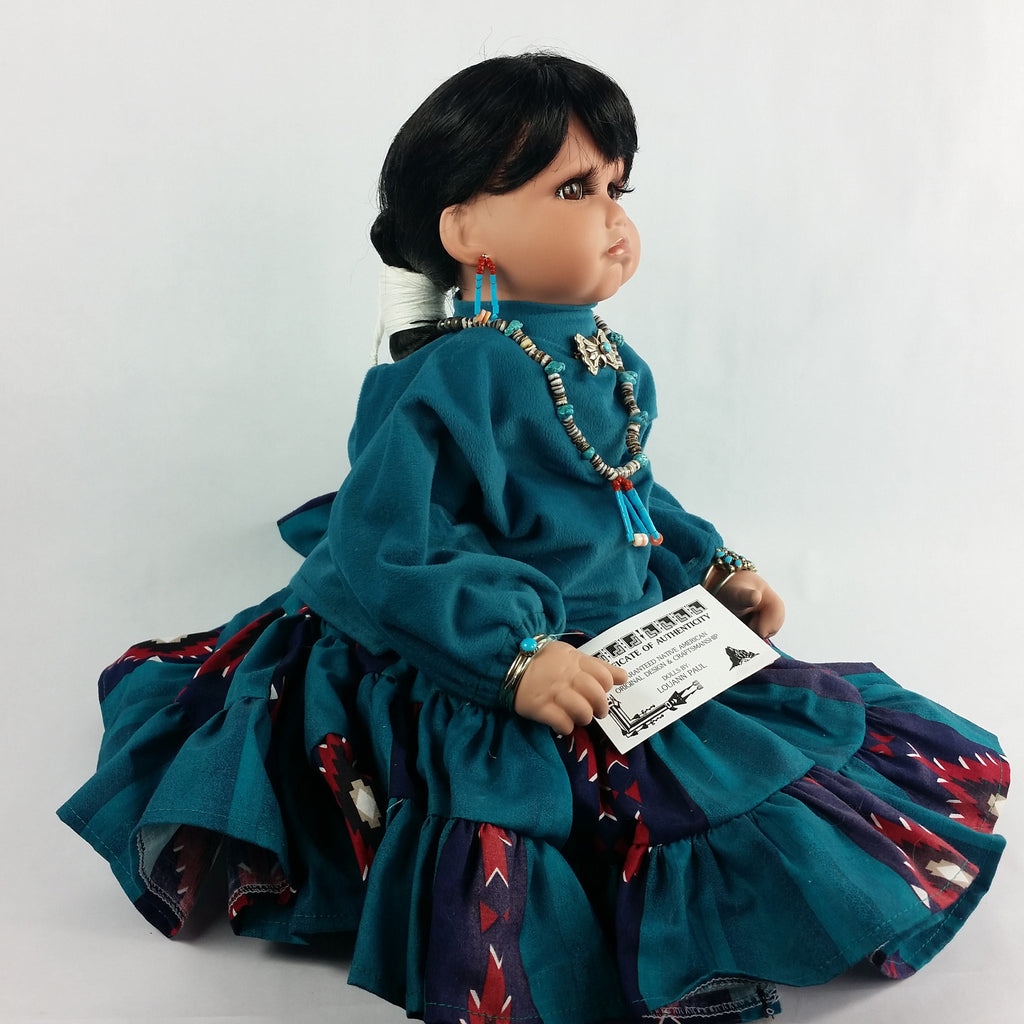 This guest post is by Rachel Hoffman, ISA AM of Rachel Hoffman Appraisal
Native Americans made and treasured dolls. The costumes and the materials used in the construction of the dolls make them identifiable across the globe. Children and doll collectors love Native American dolls for their uniqueness and detail.

Native American dolls reflect the values and beliefs of their respective tribes, while still having many common characteristics. They reflect positive qualities that people everywhere appreciate. Native American dolls demonstrate man's ability to adapt to a diverse environment. The dolls have a wonderful liveliness to them derived from the Native American love of dance and show a closeness to the land and respect for nature.

Native Americans were among the first people to realize the beauty of nature. Their imagination soared to inspiring heights. Their dolls represent their perspective of beauty. They made dolls of soft leather using feathers and colorful dyes from plants and minerals as well as from carved wood bringing out an inner energy.

Native Americans sewed materials with precision and adorned many dolls with jewelry of exquisite beadwork. They costumed dolls in capes, shawls, dresses, belts, leggings, blankets, and footwear decorated with fur, bone, shells and intricate bead work. They carved dazzling ceremonial masks. Their dolls wore miniatures of what the Native Americans themselves wore, making them lifelike and almost magical.

There is a wide range of what you can expect to see in Native American dolls. Dolls served Native Americans as artifacts in rituals and as companions for work and play. The character and costume of a Hopi deer dance is quite different from a a Warrior Kachina Doll. A Navajo Rain Dancer doll is a spectacular sight. The Zuni warrior doll has a rhythm of timeless beauty and an Inuit (formerly called Eskimo) hunter doll depicts the icy environment of the North.

With the arrival of European colonizers, many Native Americans began to wear traditional styles adapted to new materials. Some Native American dolls represent this period. Doll-making is an important occupation. Modern doll-makers draw inspiration from Native American crafts utilizing modern materials and techniques. Their dolls bring pleasure to thousands of people. Doll artisans design special Native American items such as moccasins and accessories, totem poles and even kayaks, for the dolls.

Native American dolls are displayed in exhibits all over the world in museums as a means of teaching others about Native American culture.  When we buy a folk doll we foster knowledge and international friendship. 
Rachel Hoffman resides in Colorado where she has a brick and mortar store consulting and specializing in antique and vintage dolls.  You can also find her beautiful dolls online at Turn of The Century Antiques. 
14 Responses
Leave a comment
---
Also in Blog