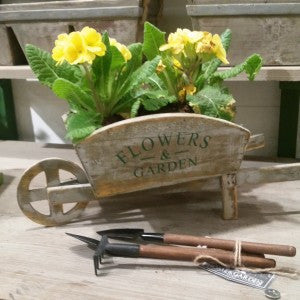 Spring is around the corner and I can't wait to start my container gardens. You can use just about any container for plants just make sure to have plenty of drainage.  If your favorite containers don't have holes in the bottom I just drill them. I can't wait for my shipment of adorable containers to come into the shop, but until then I will tease you with a few pictures.
When planting my containers I use annuals or flowers that only bloom for the season.  They are shorter lived than perennials, but they pack a punch in container plantings by your front door, patio, or courtyard because they bloom until frost versus perennials that come back every year, but only bloom for a few months out of the year. When thinking about what to plant know how big the plant is going to get.  There is nothing worse than getting through only half the summer and the containers you chose were too small and your plants have to be watered twice a day to keep them alive.  Fertilize.  I fertilize with a 10-52-10 fertilizer once my flowers are going (the high middle number is phosphorous, that is what they need to bloom) and I feed about once every two weeks.  This will keep them blooming.  Always water your flowers first before feeding. You also want to water your container plants well every few weeks to flush the salt build up that accumulates in the bottom of the pot.  This will help prevent the burnt brown edges around the leaves from salt burn.
Herbs are also great for container gardens and can handle smaller pots.  Because many herbs cannot handle the cold they make good container plants that you can bring indoors during the winter months and place them in a sunny location. I use a whisky barrel with 1″ drilled holes in the bottom for for my favorite herbs. I plant parsley, different colors of basil (I love basil, sliced tomatoes, and whole mozzarella with balsamic vinaigrette & olive oil in the summer), chives, and I use a rosemary topiary in the middle to give the container dimension and height.
There are so many adorable garden containers these days to play with outside like hanging urns and antique style buckets, as well as antique wash tubs, olive buckets, and even old watering cans. I have even seen people use antique tubs as planters.
Cute container gardens also make gift giving easy. I like giving cute container gardens or glass terrariums as gifts during the spring around Easter as well as throughout the gardening season for birthdays.  Who doesn't like flowers that last a little longer and an adorable container you can continue to re-purpose outside or in. Whatever you decide have fun thinking about spring…. I will be.
Leave a comment
---
Also in Blog