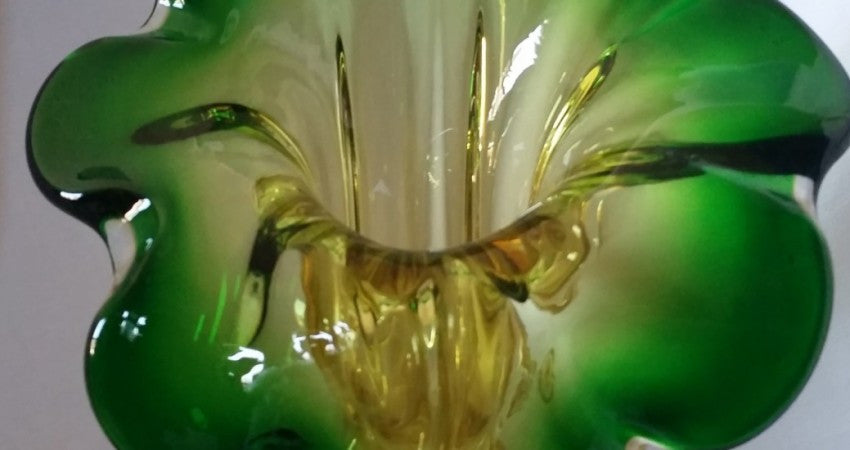 Have you ever wanted to buy a piece of art glass, but didn't know what it was or how to describe it?  Here are a few techniques commonly seen in the world of art glass. Many of these techniques are very common to the art of making Murano and Venetian Glass. Once you are better able to identify art glass and describe it you can easily search for what you want to collect.  We will have you speaking art glass in no time! Let's get started with Session 1.
Bohemian glass makers are commonly known for a technique called "cut to clear" where a piece of clear glass is flashed, or coated in another color of glass, and then etched to reveal the clear glass beneath. These pieces are very beautiful and can be found in antique vases, antique glass decanters, and wine goblets. Cut to clear antique decanter sets can be used as a colorful display on the bar for a pop of color.
Many glass makers use the technique of applying separate pieces of glass to a piece of glass like floral decorations, pedestal feet, or a handle.  Applied glass is a very popular technique among the glass maker Stevens and Williams. Stevens and Williams often made antique vases with applied rigaree, or thin clear bands of glass made to look like ribbon that were applied to each piece.  Of course, the more intricate the piece, the more valuable. These vases are great used on an end table or for a tabletop display.
The glass makers of Murano used many beautiful techniques that make Italian glass so irresistible today. The Aventurine technique looks like metallic flecks within the glass.  This was done by adding metal pieces to the glass to add a metallic shimmer.  This can commonly be seen in Murano ashtrays, antique glass ewers and vases. Bullicante was a common technique used in the 1950's where bubbles can be seen throughout the glass. Bubbles can go from large to small or small to large and are evenly spaced apart.
In the 1930's in Murano they began dipping one color of glass into another.  This became known as the Sommerso technique and can be seen very commonly in mid century art glass from the 1950's and 60's.  The Sommerso technique is commonly seen in vases and in art glass figurines of animals and flowers. This art glass has become extremely popular for collectors because of the beautiful colors and overall eye appeal.  These pieces make an excellent focal point in a home and add interest on a shelf or mantle. Another technique known as Millefiori, can be broken down into its two part definition, "mille" meaning  thousand and "fiori" meaning  flowers. Each colorful circle represents a flower and there can be thousands of them each made from a single cane of glass and then tied together. This technique can often be seen in antique paperweights and is extremely colorful.
Even if you don't plan to collect glass as a hobby you may choose to add a few pieces to spice up your home decor. Knowing these techniques can help you find that perfect piece of art glass to add just the finishing touch to your home. I purchased these beautiful Murano glass pheasants at a sale for my dining room table.  They are the focal point of the entire room. Happy hunting!
10 Responses
Leave a comment
---
Also in Blog