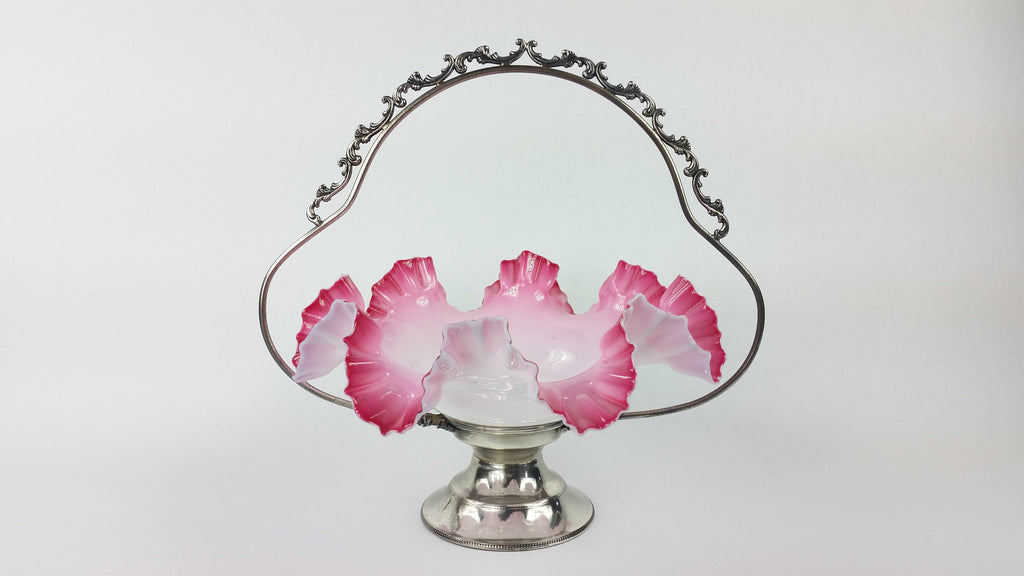 Antique bride's baskets were typically made of silver and glass and were used to bestow gifts during wedding ceremonies. The lavish silver stands as well as the glass bride's baskets were very ornate making them beautiful centerpieces for wedding ceremonies.
The silver plate stands were often ornately designed with roses, cherubs, or birds amidst scrolled patterns of silver to hold cased art glass bowls with ruffled rims in brilliant colors of pinks or blues fading to white and then hand painted. 
During the early to mid 19th century bride's baskets were made of coin or sterling silver and would hold flower petals for the flower girl to scatter or as a tabletop display to hold the bride's bouquet during the reception. Toward the end of the 19th century bride's baskets were produced to be more affordable and manufacturers turned to making the stands with silver plate. Silver companies would commonly purchase glass baskets to pair with stands as would glass companies purchase stands to pair with the baskets they produced. In addition, many bride's baskets could be found sold separately.
If you are a collector, and choosing to purchase a set it is important to check that the glass basket fits snugly within the stand to ensure authenticity of the pairing. On many occasions pieces have been paired together over the years, but are not necessarily original matches. 
Some of the more popular manufacturers that produced bride's baskets were Pairpoint, Mt. Washington, Moser, Webb, Reed and Barton, and Meriden. 
There are many collectors today of bride's baskets that seek them for their beauty and delicate nature. They happen to be one of my personal favorites to collect due to their ornate beauty!
Leave a comment
---
Also in Blog