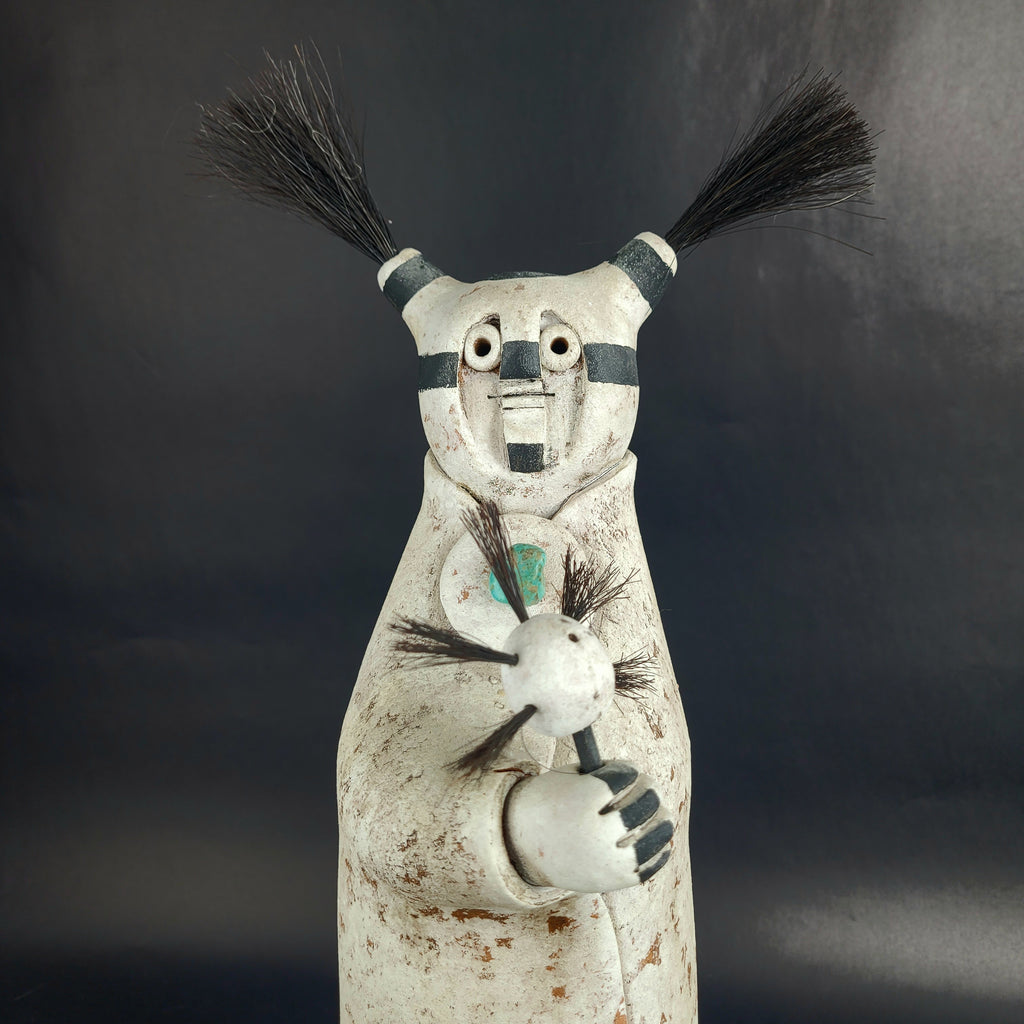 Find our entire collection of
southwest art and sculptures.
Video Translation: Hi, Jennifer here with City Farmhouse Antiques and I am here with the Find of the Week with an artist that is very well known in New Mexico for her "Pueblo Blanket People" sculptures. All of her pieces are hand done. There are never any molds used. The artist is Lisa Lamonthe. She was born in 1950 and lived until 2011. Her pieces are very unique to her style. They all look like they are wrapped in a blanket. This is a very large piece at about 20" tall. Typically her pieces are about half that size so it is unique in that it is as tall as it is. All of her pieces like I said are hand done. She uses real authentic turquoise and horse hair and all hand molded and done. She is a New Mexico artist with her own style. I will turn this piece around so you can see her. She is heavy as well. This is a great piece to add to a kachina or southwest pottery collection. Also a great gift for a collector. You can see this piece is signed and dated. It looks to me that this piece is dated 1975 because it doesn't look like an 8 or a 9. That is definitely her signature and this is an older piece. I don't see any damage on this piece. It is in beautiful condition. Let us know if you are interested in this piece to add to your collection or as a gift. I apologize for not posting videos like I normally do. We have been travelling and buying so we are back just in time for the holidays to get our great unique finds up on the website. If there is something you find that you are interested in let us know or if there is something you are looking for we are happy to help you find it. Be sure and check out our website www.cityfarmhouseantiques.com where we have antiques, collectibles, southwest and native american pottery as well as home goods and go give us a like on our Facebook Page. We will see you next week.
Leave a comment
---
Also in Blog