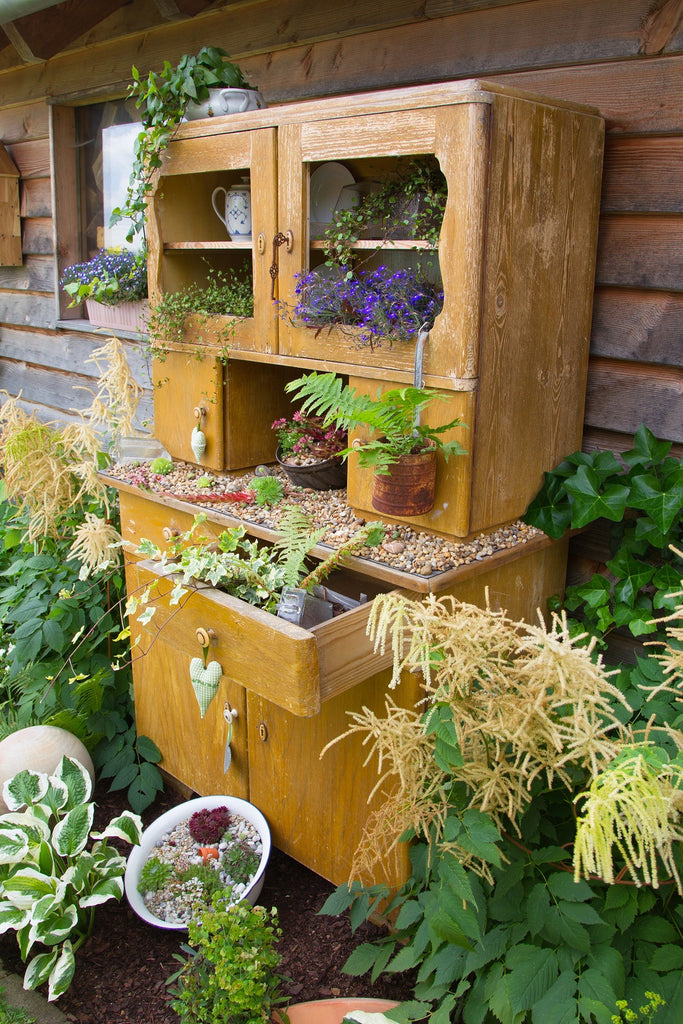 Antiques and vintage items can never go out of style when people are continuously finding ways to re-purpose them and get creative. Antique furniture pieces are more ornate than many modern pieces and can easily be painted and distressed to give them a French Country washed look. Some of the most adorable outdoor vignettes I have seen were made with vintage dressers planted full of bulbs and flowers used as an outdoor patio container garden.  Old vintage style metal buckets and containers make excellent outdoor container gardens once you have drilled holes in the bottom for drainage both for hanging or floor displays.
Antique and vintage glass make excellent decorative centerpieces indoors in bathrooms or on mirrored trays for eye appeal on a vanity or as a tabletop display. Pieces such as antique hair receivers used for collecting hair for stuffing in the old days make perfect lidded porcelain jewelry or trinket boxes to keep in the bathroom or next to the kitchen sink. Antique glass decanters and bottles can be used to hold mouthwash or other toiletries. Vintage Murano glass ashtrays can be used as modern day candy or jewelry dishes.  
The possibilities are endless and just call on you to be creative.  Many times these ideas are much cuter and cheaper than their modern day alternatives.  The next time you are out and about at a flea market or in your grandmother's attic don't be afraid to think past the obvious. These one of a kind treasures are sure to inspire others and definitely stand out among the modern pieces you see everywhere. Happy hunting!
1 Response
Leave a comment
---
Also in Blog