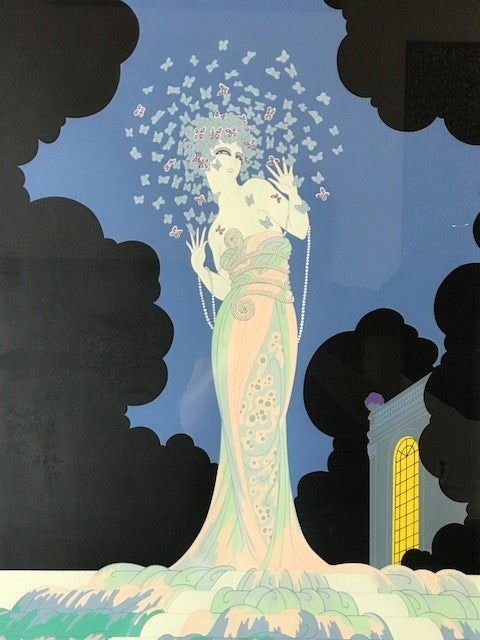 Not many know that Erte is just a pseudonym for what became one of the most well known French artists and designers of our time. Born in Russia in 1892 by the real name of Romain de Tirtoff he became an artist whose talents transformed fashion, jewelry, costume design, graphic arts, and even the design of stage sets for theater, ballet and film. His works are still well sought after today and he is still considered the "Father of Art Deco".  
Born in the Russian Empire of St. Petersburg to a prominent family with military roots he was strongly urged to pursue the same path as his father who was an admiral with the Russian fleet. Despite coercion, in 1910 he moved to Paris to pursue a career as a designer. He was known as Erte, a name he gave himself that stood for the "R" and "T" in the initials of his full name. In this way, he could not bring any disgrace to the family name should he be unsuccessful. 
Erte's works were a constant reflection of the art deco period which he lived in. Everything he designed was from fantasy thus the very dramatic effects and art deco appearance of all his creations. He worked for many publications during the 1920's such as Harper's Bazaar, Cosmopolitan, and Vogue.  He designed over 240 magazine covers for Harper's Bazaar alone!  As his creations and stage sets became more popular his career was further launched through the design of apparel and costumes for people such as Gaby Deslys, a well known French dancer, the Ziegfeld Follies, and even actresses on Broadway. He eventually moved to Hollywood for a year and designed sets and costumes for films such as The Mystic, Ben-Hur, and The Restless Sex to name a few. 
In the 1960's with the resurgence of the art deco period, he crossed over into productions artwork and began making limited edition serigraph prints, bronzes and jewelry.  He is probably most famous for the image in Symphony in Black of the slender and tall modern looking woman dressed all in black standing next to her dog on a leash. 
Erte died at the age of 97 in Paris, France. A modern artist for his time, and lucky enough to experience a resurgence in popularity twice in his career. His works are still very much in style and still considered modern today. They make excellent additions to any art collection as well as conversation pieces in any decor.  The colorful and intriguing silhouettes of such dramatic and sophisticated women make his art ever so intriguing. Erte's works continue to be displayed in many museums such as the Smithsonian, the Metropolitan Museum of Art and the Los Angles County Museum of Art. 
15 Responses
Leave a comment
---
Also in Blog